Hotel Margarita Services and Amenities
Breakfast
Each morning, before exploring Kythira, start off your day with a delicious breakfast.
A buffet breakfast is served from 8:30 to 11:00. Breakfast includes hot and cold drinks, fruit, yogurts, fresh bread and a variety of homemade pastries, in the tradition of Ecole de Boulangerie de Paris.
The breakfast room is located in one of the old vaulted rooms of the house, but you can also enjoy your breakfast on the hotel terrace, in the fresh air with a view of the sea and the countryside.
Kali Orexi! Bon appétit!
Reception
The hotel reception is located in the hall of the house. It is open daily from 7:30 a.m. to 2:00 p.m. and 5:00 p.m. to 9:00 p.m.. However, we are always at your disposal at +30 69 74821841.
At the hotel reception you will find a small library where you can borrow books. There are also some artefacts of Kythira.
There is also a terrace with chairs, tables and umbrellas. It is a pleasant place to read, write or meet with family and friends at the end of the day.
Car rentals, bike and scooter - Tour reservations
Ask us
Taxi and airport transfer
It is possible to call a taxi for your transportation to and from the hotel, the port and the airport of Kythira. Contact us.
Internet
Free WIFI available throughout the hotel.
Fax
Fax service is available on payment.
Medical Services
If an emergency, we can call a doctor for you.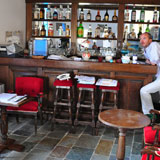 The bar
Our bar offers alcoholic and non alcoholic beverages, fruit juices, hot and cold drinks.
For dinner in Chora
Zorbas'Tavern, thirty meters from the hotel, traditional cuisine, outdoor terrace.
Belvedere Tavern, with its barbecue and wonderful view over the bay of Kapsali.
We will gladly recommend other restaurants on the island.
Hotel Margarita Surroundings
Banks (National Bank of Greece and Piraeus Bank) and ATMs at two hundred meters.
Post office at two hundred meters.
Currency exchange at two hundred meters.